Chaplains
PUPIL CHAPLAINCY TEAM
Be an example for the believers in your love, speech, faith, conduct and purity.'
(Timothy 4:12)
Our children have the opportunity to serve the school as part of the Pupil Chaplaincy Team. Anyone can apply by completing an application form.
The team play a vital role in the Spiritual life of the school and are supported by Mrs Read, Mrs Law and Mrs Pomeroy.
The role of our Pupil Chaplains includes:
To help the school to be a community of faith.
To help promote our Values.
To encourage the pupils to live their faith in daily living.
To develop good relationships within and beyond the school community.
To support liturgy, prayer and the spiritual life of the school.
To continue to develop strong links with the Parish and community.
To support the school in its Mission Statement.
In order to fulfil these roles; our Pupil Chaplains will:
Help to prepare Acts of Worship and masses, including selecting readings.
Help to lead Acts of Worship.
Suggest ideas for RE resources.
Promote Bible stories.
Contribute to the newsletter and school website.
​​​​​The following are our five top tips to help us be successful Pupil Chaplains:
Listen to each other's ideas.
Communicate with all the team members, school and parish.
Encourage everyone when making decisions, to share their ideas and to try their best.
Include everyone when making decisions.
Lead by example, love everyone especially people you don't get on with.
​​​​​​​​​​​​​​If you have any ideas that you wish to share with us then please let us know, we are here to listen and help!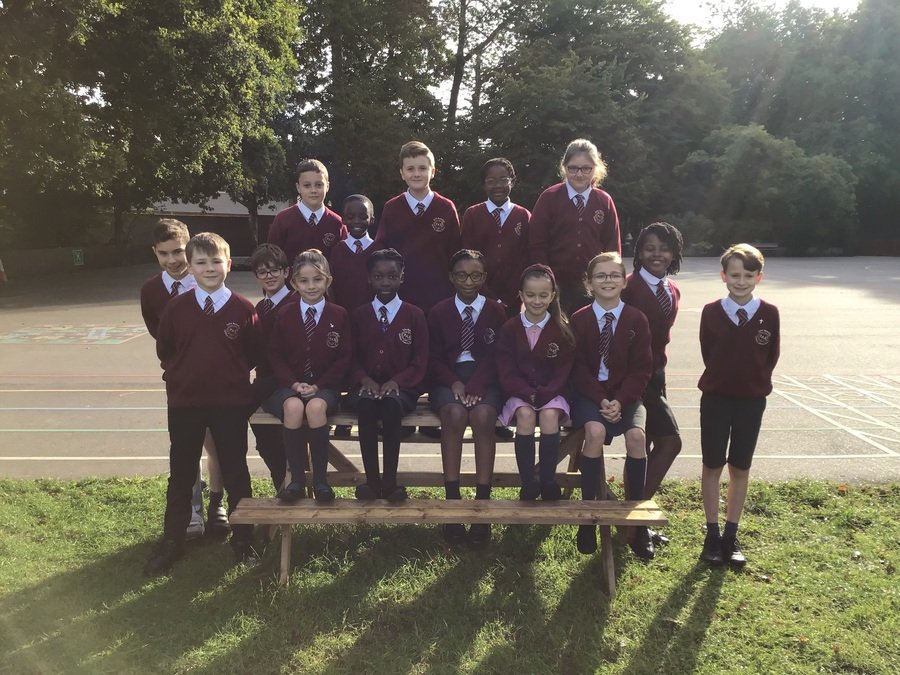 KS2 Assembly with Guest Speaker Joanna Waller (Youth Vincentians Development Officer for Southwark Diocese).
KS2 enjoyed an assembly all about the work of Mini Vinnies led by our visiting speaker Joanna Waller (Youth Vincentians Development Officer for Southwark Diocese). We learnt how Mini Vinnies turn concern into action using the moto 'see – think – do'. After the assembly, Joanna spent time with our new team of Mini Vinnies and the children shared ways they have already helped people in need and their plans for the rest of this year.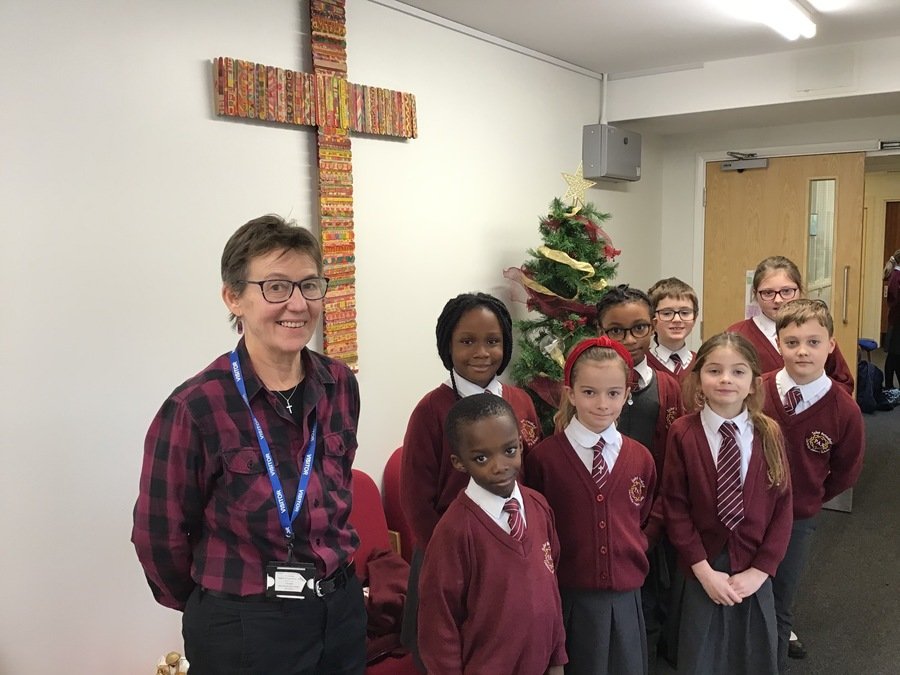 Messy Church Friday 3rd December 2021
This morning, our Pupil Chaplaincy Team led Messy Church for parents and childminder groups in our local community. The children enjoyed Christmas small world play, making Christmas crafts and story time. Thank you to our Pupil Chaplains who were a credit to our school through their kindness and support with our young visitors. In the closing prayer, Sean (Year 6) reminded us of the true message of Christmas.
School Chaplains are called to be witnesses of the love and care of God and his Church for the school community. They organise some of our school events and offer their help to our school community.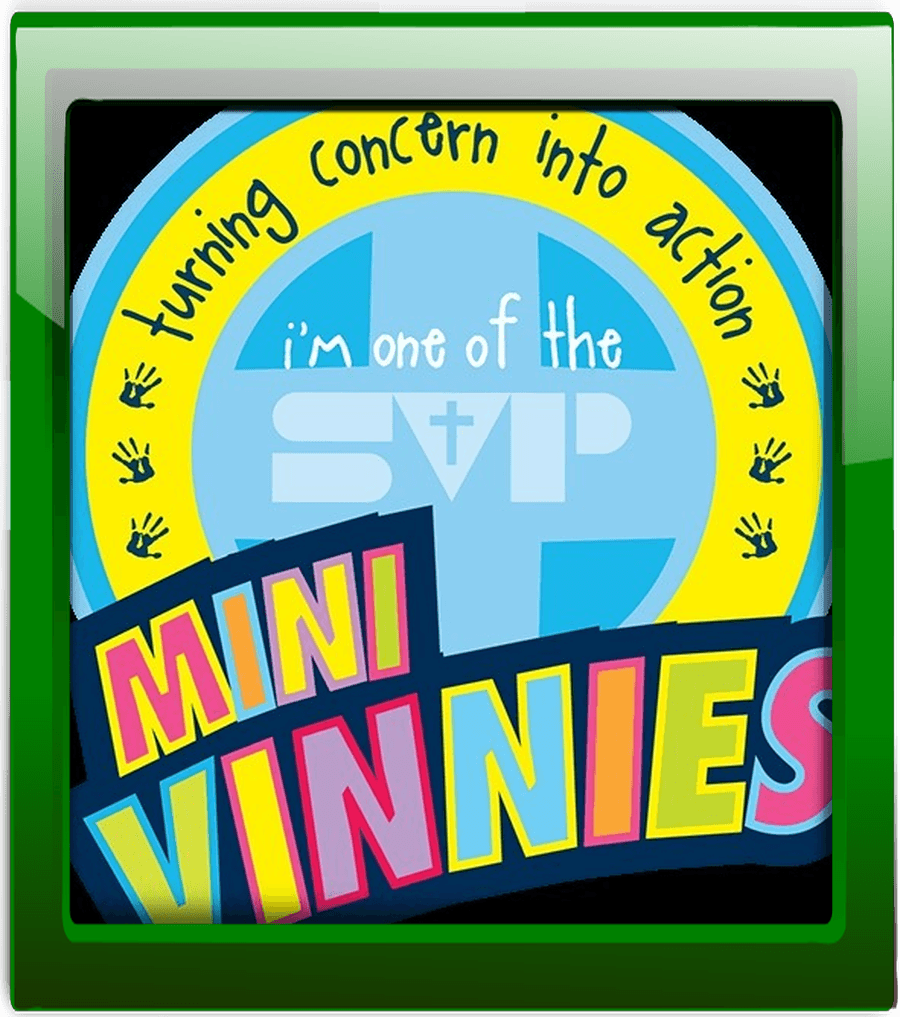 What are Mini Vinnies?
We are a new group in school that are linked with the St. Vincent de Paul Society (SVP), we are the youngest members of this international society.
The Society of St Vincent de Paul (SVP) has been engaging with young people and education since its earliest days. Today the SVP England & Wales is pleased to highlight its continuing strong links with young people, through the development of its new 'Mini Vinnies' programme, which is seen as having, "the potential to significantly contribute to the future of our Society."
The Mini Vinnies are quite literally mini St. Vincent de Paul's. They come together as part of a voluntary organisation dedicated to tackling poverty in all its forms. Mini Vinnies meet to pray, discuss and support however they can to help make a difference in their communities.
Our 'Mini Vinnies' this year are all from St. Therese's Class (Year 4) who, with the permission of their parents and the support of Mrs McAlpine, are encouraged to embark on their first steps as young Vincentians – or 'Mini Vinnies'. Our main ambition is to turn concern into action by raising awareness about people who may be less fortunate than ourselves. All the children volunteered to be part of this exciting new group and we are very proud of each and every one of them.
St. Benedict's Mini Vinnies.
Our Mini Vinnies this year.
Our Aims:
To care for, respect and love ourselves

Strengthen our friendship with Jesus

To care for others in our school and community

To care for and enjoy God's world

To treat others the way we would like to be treated

To fund raise to help those in need